Trillium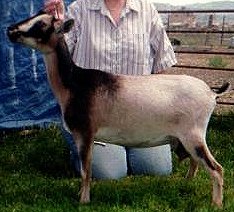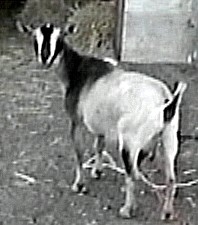 The first picture is Trillium as a yearling. The second picture is Trilly as a 4 year old. Trilly is almost the definition of a superb brood doe. Her daughters and granddaughters are much better in the udder department, but keep Trilly's length and dairy character. They tend to do well in the ring. Her milk supply starts out slowly then increases to about average, but several of her kids have been very good milkers. She is friendly but does tend to stress easily. She hates to leave the pen, even for grain and milking. She had triplets this year, two bucks and a doe. I will keep the doe. The bucks are available as wethers.
Goodwood Tickletongue
Ohlone Buckbuck
Ohlone Tidbit's Turnabout
Spiritwind Trillium
Dav-Lyn White Thunder
Car-Lin Fantasmic *D
Leighstar's Lucky Shamrock
These are Trilly's does.